BACKGROUND
In 2019, utilizing the experience and friendships acquired through associations with several local non-profits and non-profit work in Wyoming, Tom launched Talking with Tom (TWT). TWT started as a simple concept: offer a cup of coffee and egg sandwich to any current or recently homeless individuals who wanted to sit and discuss problems they faced. Tom would then suggest various remedies. Covid put a damper on that initial concept but TWT still blossomed. It now focuses on a weekly outdoor lunch gathering and twice weekly home visits comprised of food, and conversation with individuals dealing with health and housing issues.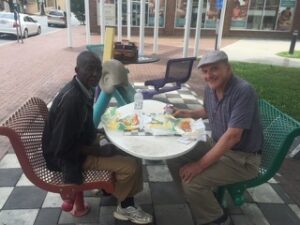 MISSION AND FUTURE STRATEGY
Once COVID is behind us, our government and citizens hopefully will focus on the three H's (Health, Housing, and Hunger) as intently as the 3W's (Wear mask, Wash hands, Watch distance) were focused on to attack Covid. The solution to solve the 3H crisis, as with Covid, requires that individuals play a role along with the government.
TWT plans to help lead the movement to focus on 3H by working independently with local community leaders and non profits and connecting them to folks in need of 3H aid. ("talking to those with the means to get help to folks with the needs").
Finally, TWT will also continue its work to increase the amount of affordable housing units in a community that has a documented deficit of 15,000 units. That's a huge task-so………
Let's start talking ………
"We have accepted, so to speak, a second Bill of Rights under which a new basis of security and prosperity can be established for all — regardless of station, race, or creed …Among these are… The right of every family to a decent home."         FDR State of The Union-January 11,1944